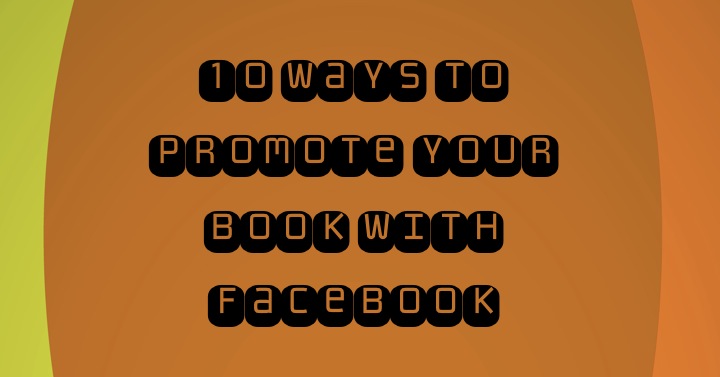 When you're promoting a book on any budget, Facebook can be a great utility. If you want great sales it is best to start early, six to nine months before your book is set to be published. When you are are ready, here are the tips to follow to help get the word out on Facebook:
Create a Page:
You'll want to start by creating a page for yourself as an author. Not a normal account, just click 'Create a Page' from your personal account. By linking your author page to your personal account you will be able to make sure everyone you already know can participate in helping to spread the word. So send an invitation to all of your Facebook friends!
Cover/Profile Pics:
It's very important to make sure that your page is visually attractive to a reader. Facebook offers the option of adding a cover photo, as well as a profile pic. Since this is your author page, and not solely for a single book, you can use any of your previous title covers or even mock covers for your current title to give the page some pizazz. Make sure you have a nice picture of yourself for your profile pic.
About:
This is the section you'll want to fill in with your bio, because it will appear right under your profile pic on the front page.
Apps:
Facebook offers a great way to quickly link your published projects to your page. It's called the 'Author App'. Make sure you snag that app and attach it to your page because it will also show up under your profile pic. This makes it easy and accessible to your entire fan base, and also to strangers that just happen upon your page.
Videos:
If you haven't already thought about having a book trailer made, now is the time to start. Photos and videos make your page appealing. Upload those book trailers! Tutorials and interviews are all the rage on Youtube, and have a way of spilling over onto Facebook. It's a good idea to think about doing these as well.
Official Website:
When you've set everything up, make sure you link your Official Author Site to your Facebook Page. This will allow you to quickly direct your fans on where to find out about the buzz surrounding you, the author.
Notes:
Like any Facebook page, your author page will allow you to write 'Notes'. This is where you can blog about your books progress, upcoming events and giveaways, and reviews from your readers. Utilize your notes section!
Events:
Book signings, radio interviews, and blog tours are a few of the ways an author promotes their work. Facebook Events is a great way to make sure that your fans are able to be invited and attend these things. It's also a great way to host a book giveaway!
Giveaways:
There is not a soul on this earth that doesn't get excited to hear that something is FREE! Hosting a book giveaway is a great way to make sure that your fans are sharing your page with their friends and family members. If you've published eBooks or via the Nook or Kindle these are the easiest to giveaway because it doesn't cost you anything. Coax your fans to get you to a certain number of 'Likes' with the promise of a free read.
Advertising:
Once you've set up your page and invited your friends you may find that your fan base is still pretty low. If you can afford it, Facebook offers ways to advertise your page to all of their viewers. I recommend that you advertise the important things, like book signings, interviews, giveaways, and release launches. These are the things that catch the viewer's eye. Facebook supports you and wants to see you succeed! Once you reach your fiftieth 'Like', scour your email for that first advertising coupon from Facebook. It will help to get you started.