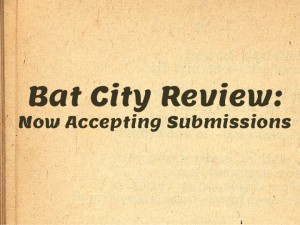 Founded in 2004 at the University of Texas at Austin, Bat City Review is an annual print journal publishing fiction, non-fiction, poetry, and visual art. In its ten year lifetime, this entirely student-run journal has published work by many noteworthy authors whose accolades include a Poet Laureateship of the United States, a Lenin Peace Prize, a National Book Award, a Pulitzer Prize, and a L.A. Times Novel of the Year. With work by these celebrated authors, as well as pieces by unknown writers, Bat City Review has become known as one of the top literary publications of the day.
Each yearly edition of Bat City Review contains work by about 40 authors. They accept submissions from June 1st through November 1st, and submitting writers can expect a response in late autumn. All submissions are read by the Bat City editorial staff, as well as the Bat City class, a group of university students learning about the editorial process. With such a large and changing group of readers, Bat City Review doesn't aim to maintain a particular aesthetic. They publish a wide variety of styles and forms, both traditional and experimental, and you can get a sense of what they publish by reading samples of past issues online.
Fiction writers may submit one short story, novella, or piece of flash fiction of any length. Non-fiction writers may submit one lyric essay, memoir, or interview of any length. Poets may submit up to five poems. Writers in all genres should submit no more than once per submissions period.
Bat City Review accepts submissions online, but not via post or email. They accept simultaneous submissions, but ask that writers immediately withdraw work accepted elsewhere. They don't accept previously published work.
If you'd like to learn more or submit to Bat City Review, please visit their website at http://www.batcityreview.la.utexas.edu/guidelines.php.