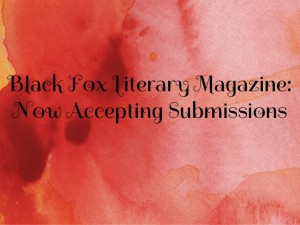 Black Fox Literary Magazine is a print and online publication of fiction, poetry, and non-fiction. They publish many forms and styles of work in all genres, but they especially like to publish styles of fiction that tend to be under-represented in literary journals, such as mystery, crime, romance, young adult, and all sub-genres in-between. In keeping with their goal of lending an ear to unheard voices, Black Fox publishes new and established authors alike. You can get a sense of what they publish by reading past issues online.
Black Fox publishes two annual editions, in January and July, each with work from about twenty authors. They accept submissions on a rolling basis, but have cutoff dates for each issue. For the January issue, they accept submissions from July through December, and for the July issue, they accept submissions from January through June. Black Fox also accepts poetry and flash fiction for publication in their weekly website feature. They're also launching the Black Fox Blog, and are accepting craft essays, book reviews, and articles about book and publishing news for publication on the blog.
For the website and biannual publication, poets may submit up to five poems. Fiction and non-fiction writers may submit one short story, essay, or work of narrative non-fiction up to 5,000 words. Fiction writers may also submit flash fiction up to 1,000 words. Writers in all genres should submit only once per submission period, and can expect a response within about four months.
Black Fox accepts submissions online, but not via post or email. They accept simultaneous submissions, but ask that writers withdraw work published elsewhere. They don't accept previously published work.
If you'd like to learn more or submit to Black Fox, please visit their website at http://www.blackfoxlitmag.com/submit/.