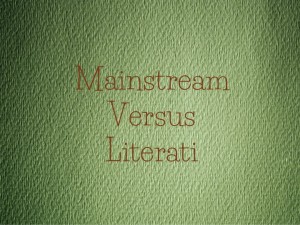 When I entered college as a graduate student in creative writing I had already spent a lot of my life writing. I finished my first novel at 15 and had completed four more after that. I had written over 200 poems the year before. I have always a wide variety of books. Still, I stuck out like a sore thumb.
For one thing I had read James Joyce (Ulysses) and Stephanie Meyer (Twilight) that year. I had always read popular fiction out of curiosity, and to keep my finger on the pulse. This, I quickly discovered was not something most writers in the Master's of Fine Art (MFA) programs did.
Since then I have discovered ways to fit in and understand the different communities I am part of. I have long found it strange that this is not an area of open discussion. This article cannot cover all the different communities but it will discuss the two major ones, what makes them unique, and how to communicate with people that are parts of these communities.
The names I have chosen for the two groups are for the most part ones I have come up with, not officially recognized names.
The Mainstream
These are writers and readers who like bestselling novels, who read the occasional classic, who may or may not have majored in English. They care about good writing but they also care about plot and characters.  Writing for writing's sake is not their aim.
They probably have not taken an MFA program, but they are interested in taking writing classes, the degree is not the point but often publication is. It does not necessarily matter if they traditionally publish or self publish a book. A lot are particularly interested in publishing on the Kindle or through a company like lulu.
The subgroups within this group are self publishers, those interested in traditional publishers, and those more focused on writing poetry or memoir. This group is also much more open to genres such as sci-fi, YA, etc.. . .
When communicating with people in this group it is probably not the best idea to bring up things like the NYC versus MFA debate, or any issues you have with genre writing.
The Literati
These writers are interested in literature. If they are older writers they have probably read most of the classics, if they are younger they will most likely lean towards reading slightly obscure books by contemporary authors. Many have MFAs, get their work published in literary journals, and attend the AWP (Association of Writers & Writing Programs). Most people in this group would never admit to enjoying or even reading bestselling books unless they won a major literary award (the Pulitzer or the Mann Booker would be fine). The idea of self publishing is unthinkable outside of chapbooks.
The Literati ultimately breaks down into three groups of writers, the fiction writers, the creative non-fiction writers, and the poets. Each group has their own quirks and language.
When communicating with people in this group it is probably best not to mention Fifty Shades of Gray, or anything by Lee Child, unless you want to hear a long diatribe about one of those authors.
The distinction between these two groups is often quite palpable, but it is not often talked about openly. Hopefully this article will start that conversation.