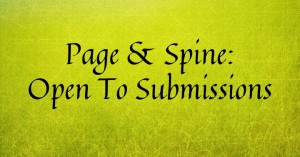 Page & Spine is an online literary journal that focuses on publishing the work of emerging authors. They accept poems, limericks, micro flash fiction (under 150 words), flash fiction (up to 1,000 words), short stories, articles, essays, and poems.
Page & Spine pays their writers. Authors of short stories are paid a minimum of twenty dollars, poets are payed twenty dollars per longer poem (approximately). For the detailed notes on payment visit their submission page.
They also publish reprints of work that has been previously published. However they only pay half of what they pay for original work.
They accept submissions via email, but they will not open any attachments, so all work has to be pasted into the body of the email. The subject of the email should be submissions.
Page & Spine usually responds to submissions within a week. Which is a very fast turn around time.
The poetry they publish tends to be very straight forward and easy to read. They don't publish anything very complex or confusing, and they avoid the overly lyrical in favor of the straight forward narrative.
The stories they tend to publish are very straight forward and traditional. They have a clear plot arc, and are often paired with a photo. Most of the stories contain a great deal of detail.
Most literary journals these days avoid publishing more traditional work. They are looking for non linear stories and poems that do not necessarily communicate anything but an image.
If your writing tends to be more traditional Page & Spine is an excellent journal to submit to. They focus on new and emerging authors so they do not care how many times you have been published before.
They also pay their authors, which indicates that they truly respect and want to support the people whose work they publish.
Page & Spines website is poorly organized but the instructions for how to submit and the details on payment are available here: http://www.pagespineficshowcase.com/contact-us.html