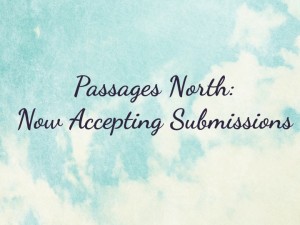 Passages North is a print journal, founded in 1979, produced by Northern Michigan University. They publish both veterans and newcomers, and though their aesthetic has changed over the years to accommodate new trends, they tend to prefer writing in the literary style. They publish fiction, poetry, and non-fiction in their annual print publication, and have recently added online content such as a Writers on Writing column, featuring craft essays published almost every week, and audio recordings of spoken word poetry. To get a sense of what they publish, you can access these features, as well as a limited selection of work from past print issues, online.
Each edition of Passages North, released in late winter, contains work from about 50 authors. Submissions for the print publication open on September 1. Submissions for the online Writers on Writing column and spoken word poetry series are open year-round. Submitting writers can expect a response within about two months.
Fiction writers may submit one short story, 1,000 to 7,500 words, or up to three pieces of flash fiction, up to 1,000 words each. Non-fiction writers may submit one essay or work of narrative non-fiction up to 7,500 words. Poets may submit up to five poems, and spoken word poets may submit up to three audio files of recorded spoken word poetry for online publication. Writers in all genres may submit a short craft essay for online publication in the Writers on Writing column.
Passages North accepts submission online, but not via post or email. They accept simultaneous submissions, but ask that writers withdraw work published elsewhere. They don't accept previously published work.
If you'd like to learn more or submit to Passages North, please visit their website at http://passagesnorth.com/submissions/.
Advertisement
---