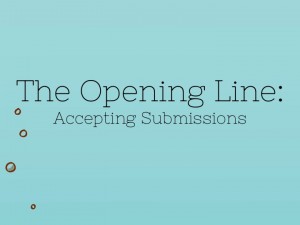 The Opening Line is an online literary journal that is open to publishing a wide range of work including novel excerpts, flash fiction, poetry, creative non-fiction, and short stories. They only publish work by authors who were previously unpublished. It is very compelling to read the issues they publish, because each one contains such different work, and even though each of the authors are being published for the very first time, some of the writing they publish is very impressive and unique.
The Opening Line accepts fiction and non fiction between 300-3,000 words in length. Their guidelines for poetry are a little confusing, but as far as I can tell you can submit no more than 4 pages of poetry at a time.
They allow submissions to contain writing of a graphic nature, but such work must include a warning at the beginning of it. All of those submitting their work should be aware that if their work is accepted it will be published in a downloadable e-magazine format. Occasionally work will instead be featured on their website instead.
They are open to publishing most genres from science fiction to romance, but they ask that you include the genre in the headline for your submission.
They accept all submissions via email. They expect the cover letter and basic information to be in the body of the email, and the work itself  can either be in the body of the email or submitted as a word attachment. It generally takes around 6 months for the editors to respond to submissions.
To learn more about their submission process, visit their website here: http://www.openingline.org/p/submissions.html