Congratulations to the winners of this week's writing contest! They are listed below.
But first, a bit about our new contest series.
Every week we are going to have a contest on our Facebook Page. The contests will change from week to week but the winners will always be published in the magazine. The contest winner and the runners up are chosen by a voting system, and then the editors of Authors Publish will select several additional entries from the rest to be the Editor's Choice winners.
Below are all the winners of this week's contest, their challenge was to tell us, in 50 words or less, why they write. Lots of people gave thoughtful answers and it was hard to pick the Editor's Choice.
If you want to read all of the entries and see the rest of the contest details, be sure to check out our Facebook Page.
To see the winners just scroll down.
The next contest will begin on Saturday March 8th.
Our Winners! The first tie in a contest so far: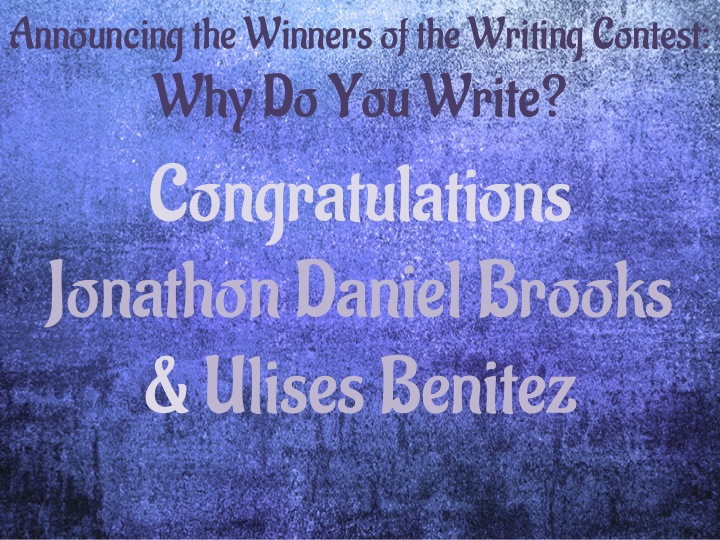 "I write because no one else can tell my joyful stories for me."
Jonathon Daniel Brooks
"I write because I believe in my self; I believe in you; I believe in the power of writing. I write because giving up is not my thing, it's not my choice. I love to write because dreams are not to be dreamed but to be achieved."
Ulises Benitez
Runner Up:
"It's cheaper than therapy, more legal than robbing banks, and more fun than dealing with reality!"
JS Wayne
Editor's Choice:
"I've turned to poetry because nothing else in life ever seems to rhyme."
Femke Van Dongen-Van Der Struik
"I write so that I can make up a reality that I am comfortable in."
Renee Lishka
"I write out of vanity–a desire to leave something behind that is permanent and uniquely my own. I write to leave my mark and say "I was here.""
Jenny Van de Poel
Advertisement
---