According to their website Severn River Publishing "was founded by military veterans and family members who shared a love of story." They were founded in 2018, and focus on publishing thrillers and mysteries, but are also open to submissions of historical fiction. All of the works of historical fiction they've published so far, focus on the military. They publish eBooks and in print. The print books appear to be print on demand, which is not unusual with a small publisher. They also have audiobooks available for many of their books, which is nice.
They are active on social media, and have genre-appropriate covers. I could not find anything about distribution out on their website, and when I reached out to them, I did not receive a response.
It did make me nervous that their website, including the main page, was geared towards writers as well as readers. The screenshot below was taken about halfway down the main page, and struck me as something one commonly encounters on a vanity or hybrid press. It's good that they are upfront about these things, and some of their books do appear to sell well (Misjudged: A Legal Thriller by James Chandler has 4,828 ratings on Amazon), but most presses that do this have vanity or hybrid ties.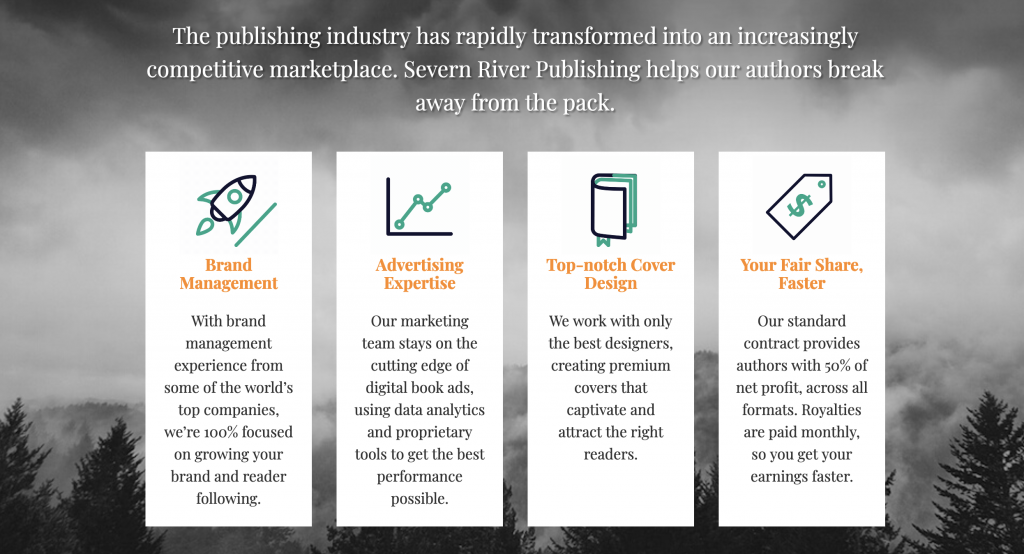 They also have quotes from authors on the main page about how good they were to work with, which again is unusual in traditional publishing.
In addition, it's important to point out that 50% of net is not unusual when it comes to small presses, and net is much less ideal than gross, in terms of percentage. There is no mention of editing, which is generally an important part of the traditional publishing process.
Overall though, they appear to do a good job, publishing consistent quality within a niche.
Unlike most presses they ask that you submit your complete manuscript along with your query letter.
To learn more, please visit their submission guidelines here.
---